←Dutch Beauty: the Interview with Carla van de Puttelaar
I hope that there will also be an admiration
for the individual person
and that women will be strong enough
to see and show their own beauty
Carla van de Puttelaar, Dutch photographer
Nothing happens by chance, every single event is determined by the sequence of other logically and cohesively built events, and here photography is not an exception. Contemporary Dutch photography, represented at the world scene by such prominent figures as Rineke Dijkstra, Helen van Meene and Carla van de Puttelaar, according to many critics, is the continuation of the rich and long tradition of the picturesque portraiture, characteristic of the authors of the «Golden Age» in the Netherlands. It is enough to recall the extraordinary play of light and shadows in the works by Jan Vermeer, the depth in the space and the contrast combined with the palette minimalism of Rembrandt, the elegance of van der Helst. All these features can be traced in the photographs of the contemporary authors mentioned above. Looking at the portraits of the teenagers in the shots by Helen van Meene or a series with swimmers by Rineke Dijkstra, we find ourselves immersed into a very special universe of unexplainable, glittering from the inside beauty, which, definitely, could be born only in the country which presented the world the gift of the «Girl with a Pearl Earing».
As Rineke Dijkstra remarks in one of her interviews: «Light has certainly always been an issue here in the Netherlands. Living here, the landscape is so flat, so you always see a lot of sky. There is always loads and loads of sky here».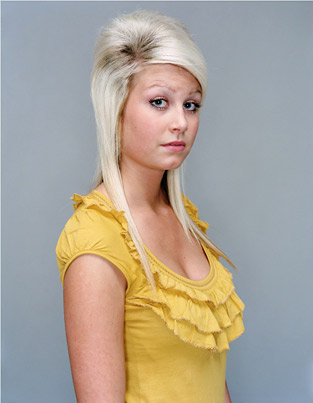 Left: Rineke Dijkstra photo from the series «The Krazyhouse», 2008
Right: Jan Vermeer's painting «Girl with a Pearl Earing», 1665
Several weeks ago I was lucky to meet and have a face-to-face conversation with the photographer Carla van de Puttelaar, whose style is remarkable by its eroticism, surreality and grace, which is attained not only due to the simplicity, depth and sincerity of the admiration at the beauty of the woman's body, but, technically, thanks to the filigreed work with the nuances of light and colour. Sitting in the noisy dinning hall of the old Amsterdam hotel «Lloyd» with traditional snacks and espresso on the table, I talked with the contemporary master of "Hollands licht" about the connection between photography and painting, abоut the peculiarities of working with models, and, keeping in mind that I deal with a really profound expert, about beauty. Beauty seen by the Dutch.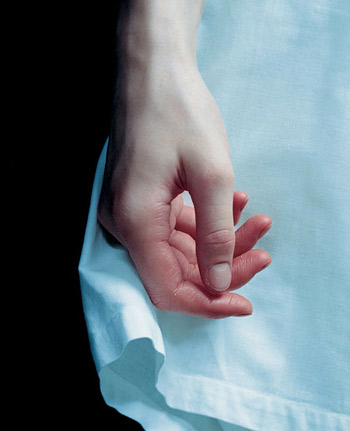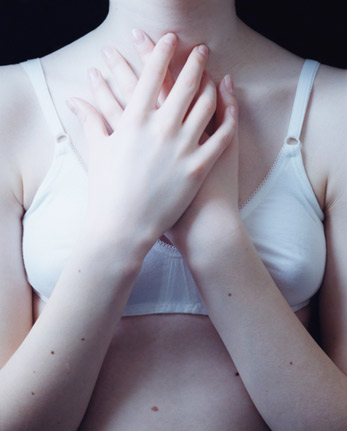 Photos by Carla van de Puttelaar, «Untitled», 2000

The Venuses of Cranach
The alikeness that lies between the photography by Carla van de Puttelaar and the 17th century painting is not a curious metaphor coined by bored art-critics. The technical side of the photographer's work with the light is practically the artist's visiting card and the result of the direct influence on her style of the great master Lucas Cranach the Elder. Carla herself, speaking about her educational and creative paths, confirms her non random link with painting:
«I actually started out as a painter. When I went to art academy (Gerrit Rietveld Academie) in Amsterdam, I was admitted to the painting department. But you have a sort of basic year when you can try a lot of things and I thought that photography might be more interesting… So I went to the photography department and I eventually graduated from that department and kept on working with photography but always with painting at the back of my mind somewhere… I am also interested very much in early photography where the picturesque part is also very strongly connected with painting because that was also the tradition that artists knew and people knew.
I really love photography very much, it gives me a very beautiful way of expressing myself. An artist wants to have his/her own style, it can be a blessing, but it can also be a cross to bear, a straitjacket. But you have to work with your style as well. You have your style, it must give you strength, but at the same time it must not limit you. Because it is danger that can restrict you in your possibilities. I can say, I was very fortunate to find my own style which is really saying "it's me! It's me! It's me!" But the connection with painting is still very strong and I am very happy about that.
It is not something that I really try to do, it just what happens. It is the way I am working. It is not because I add special fashion feature from the 17th century. That would be too direct, it is an idea, it is not copying, it is using feeling of that period. It is a kind of the way the artist feels the light, colour, contrast. That clear obscure like the so-called Flemish Primitifs. Very bleached faces. Dark backgrounds. And then in a way… I have always liked Cranach, his nudes are really interesting, especially for example the Venus series, the Venus with Cupido, the honey bees. That is one of the paintings I found really interesting. The combination of being erotic but also elegant. The contrast, the expression, all these things. I thought I might use that in my own photography. So that is why I also dedicated one of my series to Cranach».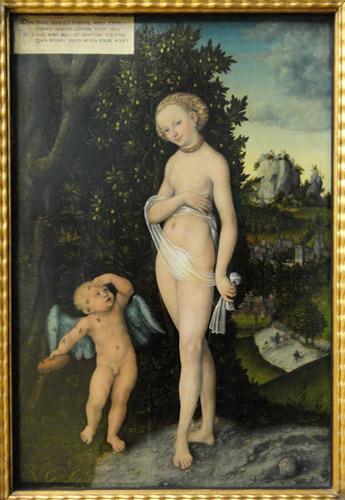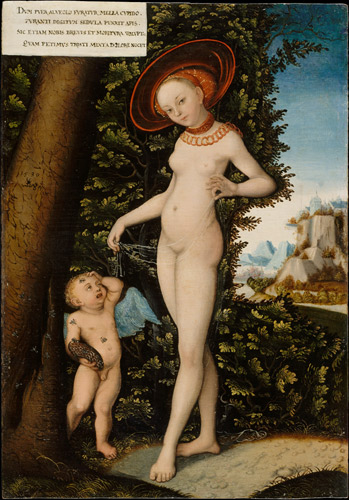 Two versions of the painting "Venus and Cupido stealing honey" by Lucas Cranach the Elder
The Trap for a Mole
In most of the photos by Carla van de Puttelaar we can see young girls resting sill on sterile white covers or posing in front of a black background. The camera focuses on close ups of the details of their bodies: wrists, crossed arms, hips, shoulders or breast. All of them present a pure image of the admiration of beauty, youth, innocence seen and captured as if in the moment of the intimate dialogue with oneself. The art of the 17th century equips Carla with the tools for the creation of her own, as she mentions not once, autobiographical message, but the uniqueness of her visual language is in the personalized sincere body presentation of her characters. The viewer silently and carefully gets involved into the game of observation of those secret notes found on the skin surface of each girls – moles, freckles, light bruises and even goose skin – all those body decorations familiar to every of us are praised by the photographer as the attributes of simple and natural feminine beauty. That is a striking contrast with the world of glamour, plastic surgery and obsession with those "stereotypes" of beauty in mass culture, which long ago went beyond the aesthetic and sometimes ethic norms, isn't it?
It is interesting to note that when selecting her models Carla van de Puttelaartrusts exclusively on her own instinct. Her thrust for beauty and the desire to capture in on film make her always be on the alert, since the necessary image might come across her anywhere in the streets of the city. She remarks that the instinctive feeling of beauty in people is similar to sudden recognition of an old friend in the crowd.
«It is like when I see you next time in a large group of people, I will recognize you because I already know you. In a way when I see a large group of people, there is a kind of recognition: oh, that is somebody I can use in my photography. Hey, there is a connection, or there might be a connection. Normally, it works like that. and I have done it for years and years. But occasionally people will say "no" or they do not understand so that is not working, because there must be a mutual connection».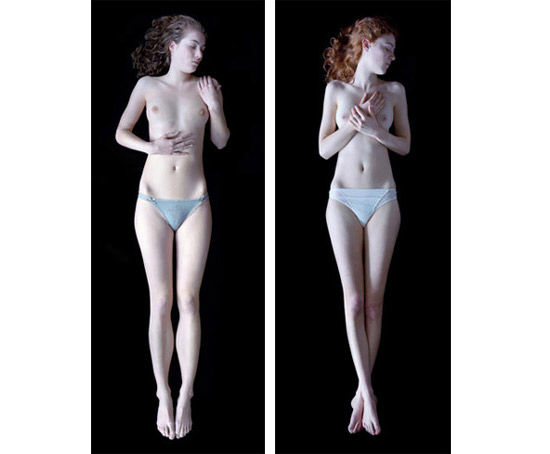 Photos by Carla van de Puttelaar, «Cranach Series», 2008
«There is one thing I really like about photography, – Carla confesses in the talk, - I like to catch the moment. oh, I see something, I really love it and I have it. Catch it. It's like you see something and there is some kind of greed: oh, this is such a beautiful moment, such beautiful light, everything is fine and then I want to capture this specific moment. That is perfect for photography".
«Beauty is in the eye of the beholder…»
Carla van de Puttelaar does not work for any particular agency, but she admits to willingly accept offers on cooperation. Her photographs have been used not only in advertising, but, which is more often, as illustration for book covers written by contemporary and classical authors.
«Nothing until now about which I thought that I would not really put my photo on. I usually read a synopsis of the novel and then give my consent. Publishing houses know my style and usually they ask me whether they can use a particular photo of mine. It can also happen that they ask me to make something new,» - Carla comments.
One of the classical writers of the world fame, whose novels have been illustrated by Carla's photographs is the British author D.H.Lawrence. Just like the photographer herself, this writer, having reached the peak of popularity at the beginning of the 20th century, in his creative work referred to the topic of instinctive perception of nature, as well as to that of emotions and sexuality. Due to their courage and directness recognized by the authorities as going beyond the decency of the British society, some of Lawrence's books, including the outstanding novel «Lady Chatterley's Lover», were banned for publication for a long time.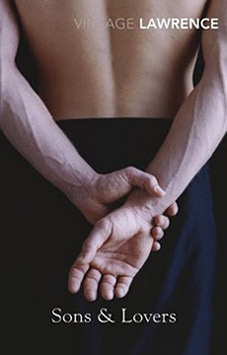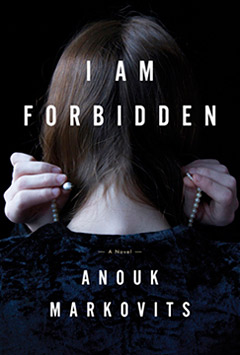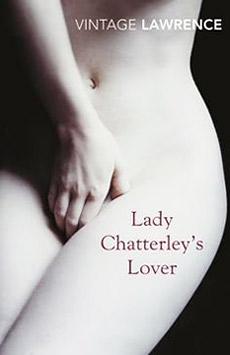 Novels published with Carla van de Puttelaar's photography on their book covers
Undoubtedly, since the 19th century the censorship has undergone considerable changes and not only in Great Britain, however, today another, completely opposite problem has become a burning one. Permissiveness of the Internet, distorted perception of body, perverse ideas about beauty and intimacy… To genuinely enjoy the creative works of Carla's is possible on condition of definite preparation of the viewer, and, to some extent, her photographs can become hostages of shallow understanding of the ignorant middlebrow.
The photographer recalls one of the stories from her practice: «But I remember a publication. It was about a group show, but in was in a magazine. And I decided not to put a nude in it. Because I am always very careful about how my work is presented. Also certain sites where I don't want to have my photographs on. But what concerns publishing, normally they have very beautiful books. Interesting books. No. I don't have any problems, I really love it.»
«My basis is my own photography and my own past. I pick up a lot of things on the way: I get stimulated by models, by light, by situations, by other people. I have a melting pot inside and everything goes into the soup and something comes out. I am sometimes amazed: oh, wow! Did I do this?»
The text was first published at http://www.znyata.com/o-foto/carla-van-de-puttelaar-interview.html (in Russian).